MLA format
Throughout your college years, you will need to work on thousands of various assignments. They will be long and short, simple and complex. Some of them will require all of your energy and time, while others you will complete in a day.
However, there is one thing, which engages all of the tasks: proper formatting. It is the main challenge and the biggest nightmare of any student, as there are several styles with completely different requirements. However, statistic shows that almost 90% of scholars use MLA format and nearly all of them have trouble with format requirements.
A paper format includes such issues, as:
Number of pages (where to place them);
Proper citing (name of the author, title of the source and the cited page);
Title page (not necessary if not indicated by your professor);
Fonts, size of the font and margins;
Reference pages, end notes and other additional pages.
Of course, you are not an academician and you simply can't remember all the requirements of a formatting style. However, when you finally learn them, you will find it very simple to format any type of an assignment.
Formatting Your Paper the MLA Way
MLA style has particular demands and requirements, so you simply need to take all of them into account, when formatting your work. They include:
No title page unless it was assigned by your professor;
Left top corner of the first page should consist of your name, date, course and professor's details. Your tutor should also indicate what page margins you need to follow;
Your title should be placed in the center of the work with double spaces on both sides. Capitalize it if necessary;
Use readable fonts in a 12 size, like Calibri or Times New Roman;
It is recommended to use double spaces and intend a new paragraph;
Insert page number to the upper right corner. However, your title page shouldn't contain a number;
If you use citations in the text, don't forget to write author's name and cited page;
Try not to use underlined, bold or capitalized words. If you need to emphasize something, choose Italics;
If you need to include additional information, add it to the 'end notes' section, which is placed before the sited works;
Every source you reference should consist of the name of the author, work's title and date of publication.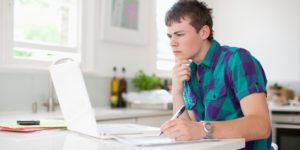 Our Writers Makes the Best MLA Style Essay Writing Service
MLA style writing is compulsory not depending on the assignment you have, so you not only need to know the subject but also to be able to format it.
Unfortunately, in most of the cases students waste lots of time on the research and simply don't have energy to format their work properly. This leads to lower grades, awkward structure of the assignment and lots of other problems.
To be sure that your paper is formatted properly, you need to contact us. We will help you to organize your text and follow all the formatting demands.
Our experts are real professionals and they hold degrees of the best colleges! You won't have to worry that we will miss something, as we value our reputation and are ready to work on the order until you are completely satisfied with results.